It's been a tough start to 2019 for Australia's number one network. Once powerful formats such as My Kitchen Rules and House Rules have struggled for attention against a rejuvenated NINE.
Far from defeated however, the network plans to roll out a massive slate of new and returning shows in the second half of the year, designed to win back viewers.
TV Blackbox has confirmed with Seven the following shows are still to come in 2019:
Between Two Worlds
An intense, high concept contemporary drama series about two disparate and disconnected worlds, thrown together by death and a sacrifice in one and the chance for new life in the other. Bold, daring, emotionally gripping, fast paced and unpredictable, Between Two Worlds will push the boundaries of popular commercial drama in Australia.
This ten part drama stars Hermione Norris and Aaron Jeffrey.
Secret Bridesmaid's Business
A bride's perfect wedding turns deadly after one of her bridesmaids unwittingly invites a malevolent stranger into their lives, triggering a life-threatening chain reaction and blowing open a hidden world of intimate secrets. In this addictive, six part, romantic thriller, the power of female friendship could prove the difference between life and death.
Wife Swap
The mother of all social experiments is getting a facelift! Two women from two very different families swap their homes and lives for two weeks. But in this brand new reboot, the drama is intensified – with visits from the mothers in-law and bombshells being dropped, these families are going to get a lot more than they bargained for. WIFE SWAP is a Screentime production for Channel Seven.
The Proposal
From the creator of The Bachelor comes the new sensation in dating shows. Each episode, 10 eligible daters compete in four pageant style rounds to win the heart of a mystery suitor or suitress whose identity is concealed from them. When the winner finally gets to meet their concealed suitor, it comes with a romantic proposal. Big and bold. THE PROPOSAL is a Warner Bros production for Channel Seven.
Extreme Weddings
A wedding is the most important day of a couple's life. But for some, an ordinary celebration just won't do. They want the extraordinary. Extreme locations, extreme themes, extreme expenses – our cameras will be there from the initial planning stages through to the big day. EXTREME WEDDINGS is a Seven Studios production.
Inside 'the G'
For the first time ever, INSIDE 'THE G' takes viewers behind the scenes of one of the world's biggest and busiest stadiums – the MCG. 100,000 capacity, 2,500 staff, 165 years of history! The MCG is the place of our greatest national sporting memories, from Bradman to Warney to the greatest moments in AFL history. With unprecedented access to the cathedral of Australian sport, INSIDE 'THE G' will tell the stories of the projects, personalities and passions that bring this iconic stadium to life. From feeding the crowds to keeping them safe, every event offers a new set of challenges. INSIDE 'THE G' is a CJZ production for Channel Seven.
Australian Gangster
The two-part drama is a punchy, funny and violent adrenaline-ride through Sydney's decadently gorgeous but completely inane world of crime. It's just the kind of story that writer and director Gregor Jordan (Two Hands, Ned Kelly) is the perfect person to tell. AUSTRALIAN GANGSTER is a Roadshow Rough Diamond production for Channel Seven, with production funding from Screen Australia in association with Create NSW.
First Dates
Australia's favourite fly-on-the-wall dating show returns with more single guys and gals hoping to meet their dream partner on a blind date. They've been matched on their likes and dislikes. Some will sizzle. Some will crash and burn. At the end of the night, they must decide… will they go on a second date? FIRST DATES is a Warner Bros. International Television Australia production for Channel Seven.
Australian Spartan
Season 2 welcomes Australia and New Zealand's fittest, fastest teams of athletes back into the Spartan arena where no one triumphs alone. In front of a live audience, hosts Edwina Bartholomew and Hamish McLachlan, along with sideline reporter Wendell Sailor, guide us through each episode's triumphs and tragedies as teams of three battle the course in a race for one of 10 places in the Grand Final. AUSTRALIAN SPARTAN is a Eureka/Matchbox Pictures production for Channel Seven.
Zumbo's Just Desserts
Seven has teamed up with US streaming giant Netflix to bring back ZUMBO'S JUST DESSERTS, an original Seven Studios concept from the makers of My Kitchen Rules. Australia's celebrated pâtissier Adriano Zumbo and acclaimed British chef Rachel Khoo reprise their roles as esteemed judges of this ultimate dessert makers competition.
Ladies Night
One of the biggest and boldest hits of 2018 will be back in 2019 – but this time, it's LADIES' NIGHT! Eight female celebrities will pull together to create a show-stopping performance, as they battle to overcome their nerves and inhibitions, learn to love their bodies and raise awareness for women's health. The standard has been set and the ladies will have a lot to prove when they take to the stage for their own empowering, moment of glory. Who will dare to bare this time for a worthy cause? LADIES' NIGHT is a Seven Studios production.
Cheat
Two women, one truth. From the makers of Fleabag and Liar comes this four-part psychological thriller about university professor Leah (Katherine Kelly, The Night Manager, Strike Back) who starts a dangerous relationship with her student Rose (Molly Windsor, Three Girls). What begins as a seemingly open and shut case of academic deception, quickly spirals out of control, ending in fatal consequences, and triggering a devastating sequence of events that threaten to engulf them both.
With two fiercely intelligent minds unwilling to back down, CHEAT will keep audiences guessing from the start, exploring just how far we're prepared to stand up for what we believe, and at what cost.
he gripping drama is created by screenwriting newcomer Gaby Hull and produced by award-winning indie Two Brothers Pictures for ITV, UK in association with all3media international.
Hatton Garden
HATTON GARDEN is based on the audacious jewellery and cash burglary at the heart of London's diamond district, executed by an elderly gang of career criminals in April 2015. The four-part drama tells the inside story of how the men pulled off the heist which was considered in a class of its own in terms of scale and ambition, and the extraordinary level of planning, preparation and organisation required to penetrate the vault of the Hatton Garden Safety Deposit Company. Produced and co-written by Jeff Pope (Little Boy Blue) and Terry Winsor (Hot Money, Danielle Cable: Eyewitness, Essex Boys) for ITV Studios, the series sheds light on how the gang meticulously planned the raid, the tensions amongst the group, the loss of livelihoods suffered by the box holders and the complex police operation that captured the gang. Timothy Spall OBE, Kenneth Cranham and Brian F. O'Byrne star.
Proven Innocent
Emmy and Golden Globe Award winner Danny Strong (Empire) partners with David Elliot (Four Brothers) to tell the emotional story of one woman's fight for the innocence of others, as well as her own. PROVEN INNOCENT follows an underdog criminal defence firm led by Madeline Scott (Rachelle Lefevre, Under the Dome, A Gifted Man), a fierce and uncompromising lawyer with a hunger for justice. There is no one who understands the power of setting an innocent person free more than Madeline. At age 18, she was wrongfully convicted, along with her brother in a sensational murder case that made her an infamous media obsession, a household name and a national cause célèbre. While a hero and a victim to some, Madeline's bold and bullish tactics earn her a number of enemies – especially Gore Bellows (Emmy Award and Golden Globe winner Kelsey Grammer, Frasier, Cheers, Boss), the prosecutor who initially put her away and still believes in her guilt. Despite Bellows' ceaseless quest to see her behind bars again, Madeline will continue to defend others, even as she fights to maintain her innocence and searches for the real killer in her own case. PROVEN INNOCENT is produced by 20th Century Fox Television, in association with Danny Strong Productions. Russell Hornsby (Seven Seconds, Grimm), Vincent Kartheiser (Mad Men) and Nikki M. James (BrainDead, The Good Wife, The Book of Mormon) also star.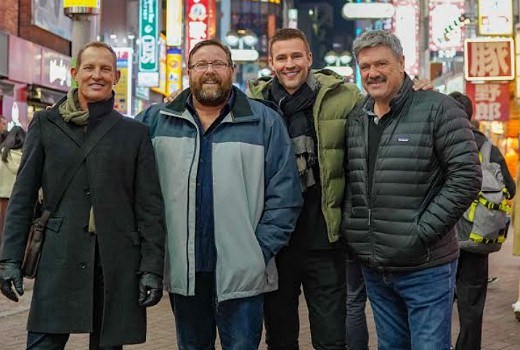 Mates on a Mission
These celebrities will stop at nothing to start a conversation in Seven's exciting new travel series with a twist.
Four beloved Aussie faces are banding together to shine a spotlight on causes close to their hearts in MATES ON A MISSION.
From Seven Studios comes a fresh aspirational travel comedy series with an unexpected heart-warming twist.
Forget fun runs and chocolate drives, this awesome foursome will go to any length to get their message out there:
SHANE JACOBSON – TV HOST/ACTOR

TODD McKENNEY – ENTERTAINER

KRIS SMITH – MODEL

BRIAN "BT" TAYLOR – AFL LEGEND & COMMENTATOR
Together, they're hitting the road to take on insane challenges from across the globe to raise awareness for different causes that mean something to them including mental health, heart disease and bowel cancer.
From the hilarious fish-out-of-water arrival in a foreign land, through to the nerve wracking moments before the epic final challenge, it's must-see event television overflowing with warmth, heart and lots of laughs.
Bride and Prejuidice
What happens when a love story turns into tragedy? You've found 'the one' and you're ready to make a commitment but your family is determined your relationship must end
BRIDE & PREJUDICE: THE FORBIDDEN WEDDINGS features six couples each desperate to marry the love of their life, but their families don't approve.
In a bid to fix their fractured families, the couples will stay together at a retreat and take part in intense therapy guided by family therapist and relationship expert Leanne Hall. During therapy, the couples and their families come face-to-face with the issues that have ignited tension and deal with the fallout of emotional and honest confrontations.
No topic is off limits as all attempt to mend existing relationships and forge new ones. The results are raw, shocking and compelling.
Can the couples gain their loved ones' approval before their big day? Or, will their parents and friends sabotage their wedding day before they even walk down the aisle?
Will our six couples turn tragedy into triumph and prove that love can conquer all? Or will they be forced to choose family or fiancé?
The Real Dirty Dancing
With its sensational dance scenes, killer soundtrack and tale of forbidden love, Dirty Dancing is one of the best-loved movies of all time. Now, Channel Seven is pleased to present an event series like no other, based on the most iconic film of the '80s.
The Real Dirty Dancing gives eight Australian celebrities the unique opportunity to revisit the movie's most memorable moves and moments with a nostalgic journey of a lifetime.
They will travel to the United States to the location where "Kellerman's Resort" was filmed in Virginia and will undergo an immersive Dirty Dancing experience.
As the cast revisit key locations and moments from that Dirty Dancing summer in 1963, they will learn the iconic dance routines from the film under the guidance of choreographers Todd McKenney and Kym Johnson.
Their ultimate goal is to be chosen to perform as Baby and Johnny in a one-off theatre performance back in Australia, where they will recreate the iconic final dance to '(I've Had) The Time of my Life', including that breathtaking lift.
All eight celebrities will take to the stage that night showcasing dance sequences from the film.
The celebrity cast of The Real Dirty Dancing:
Hugh Sheridan

Anne Edmonds

Firass Dirani

Anna Heinrich

Jamie Durie

Jessica Rowe

Jude Bolton

Stephanie Rice
Fam Time
Fam Time, a new narrative comedy wrapped in fibre optic cables starring Michala Banas (Winners & Losers, Always Greener, Upper Middle Bogan), Benson Jack Anthony (800 Words, Emo the Musical, High Life) and Duncan Fellows (The Letdown, Laid, Life Support).
Swiping for love, streaming for acceptance, posting for purpose. Meet Australia's most postmodern modern family.
The queen of content is Belinda Box played by Banas, mum to a highly dysfunctional blended family that, like most families today, is struggling to combine their online and everyday lives in the suburbs. She's the mumpreneur striving to have it all for her family – if having it all involves blogs, selfies and a good dose of Beyonce.
Belinda loves her family, but also craves the love of the growing fan base (97 subscribers!) who follow her blog adventures as a modern mum to a busy blended family in the digital age.
Fellows plays Belinda's husband John, a.k.a. 'Handy Andy', an ordinary dad who prefers tinkering to Tweeting, while Anthony is her bedroom-bound son Rylan, who is so busy looking for love online that he's oblivious when it walks through the door in real life.
A Confession
Detective Superintendent Steve Fulcher intends on catching a killer of a missing woman, even if that may cost him his career and reputation. Stars Daniel Betts, Jessica D'Arcy and Martin Freeman.
Wild Bill
US police chief Bill Hixon lands in Lincolnshire with his 14 year-old daughter Kelsey, hoping to flee their recent painful past. New community forces Bill to question everything about himself. Stars Rob Lowe.
Gold Digger
After putting her own life behind the lives of everyone around her, a woman enters into a relationship with a man half her age. Stars Julia Ormond.
Seven will also be returning the following shows with fresh episodes:
Highway Patrol

Motorbike Cops

Surveillance Oz

Ramsay's 24 Hours to Hell and Back

Chicago Fire

Botched-Up Bodies

How to Get Away with Murder
Note: How to Get Away with Murder is one of my most asked about shows. The final fifth season begins in America on September 26th. Seven is yet to confirm an airdate, but tell us it will air this year.
Final seasons to be broadcast of the following series:
Note: Quantico finished its run in America 12 months ago. Seven have promised the final episodes will air this year.
Moved to 2020
Miss Scarlett and the Duke

Liar (Season Two)
---