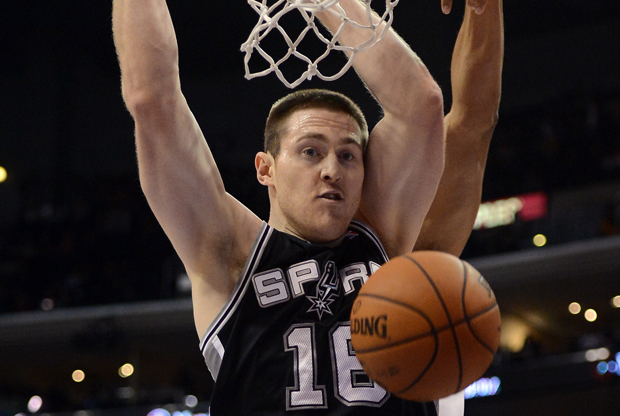 Portland Trail Blazers vs. San Antonio Spurs
Saturday 20th December LIVE @ 12pm
Aron Baynes is enjoying something of a breakthrough season for San Antonio in terms of numbers this year; his total of 15 points in Spurs' 108-95 loss to Portland equalled his career-high and was the 9th time he reached double digits in a game this campaign. He achieved 10 points or more only 3 times last year. San Antonio's Aussie forward will be hoping to make a similar contribution in this repeat fixture, though this time for the winning team. LaMarcus Aldridge and Damian Lillard were red-hot for the Blazers that night, combining to score 46 points and give Portland back-to-back victories after two straight defeats had threatened to stunt their impressive momentum. Spurs will hope to have any of Tim Duncan, Manu Ginobili, Tony Parker or Tiago Splitter back soon; they sat out of round one. Baynes will have a key role again should they not be revived for round two. You can catch it live on Saturday.
Oklahoma City Thunder vs. Los Angeles Lakers
Saturday 20th December LIVE @ 2:30pm
The Thunder notched up six straight wins after their 112-88 triumph against Phoenix, their season is finally moving in the right direction after a shocking start. After their loss to Golden State in late November Oklahoma City had won just 3 times, losing 12. To now have an 11-13 record speaks for itself. Oh, Kevin Durant is back… that must be it, right? Well, NZ's Steven Adams has been playing a major role too in terms of rebounds and all-round good play; the Thunder are a tighter and more cohesive unit these days. In fact, their past two games have been the kind of explosive and dominant performances we became accustomed to last season, leading many to believe their chances of making the playoffs can now be classed as 'probable'. The Lakers' win against Minnesota was historic, solely for Kobe Bryant and his remarkable achievement in surpassing the great Michael Jordanon the all-time scoring list. Besides that, Lakers fans haven't had too much to shout about these days.